You will be guided on your trophy hunt by an experienced professional hunter
---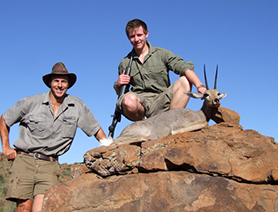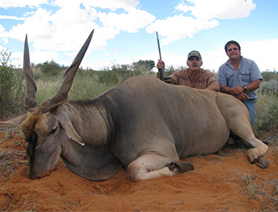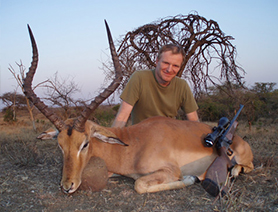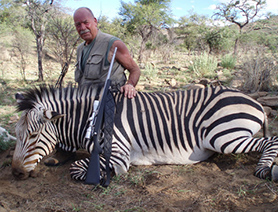 You will be guided on your trophy hunt by an experienced professional hunter registered with the Ministry of Environment and Tourism (MET) and the Namibian Tourism Board (NTB).
We suggest a rifle in the 270 Win class (7mm's; 300's) for the plains game species while a 375 H&H and upwards will suffice for dangerous game. Rifles can be provided by us at a nominal fee. Shooting range varies from 100-300 yards. Solid bullets are not to be used on antelope species as they are only permitted on the species of the Big Five in Namibia. Good quality premium grade bullets should be used.
Muzzleloaders with the correct muzzle velocity for specified trophy species are allowed. (Black powder is available in Namibia). Telescopes with a 6x magnification will do for the open plains, while a 4x magnification will suffice for the denser vegetated areas.
Hunting is done by spotting and stalking
Game species varies from the small Damara Dik-Dik to the Elephant. It is a great country to hunt for some of the more sought-after trophies like the Damara Dik-Dik, Leopard, Cheetah, Black-Faced Impala, Sable, Hartmann's Mountain Zebra and Roan Antelope.
46 Species can be hunted in Namibia. Hunters are allowed a maximum of two trophy animals per species. All field preparation of trophies are done by us (salted, dried, tagged, disinfected), which afterwards will be delivered to the taxidermists or shipping agent of choice. There are several taxidermists throughout Namibia with whom you may discuss your trophy mounting options.
---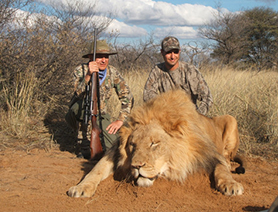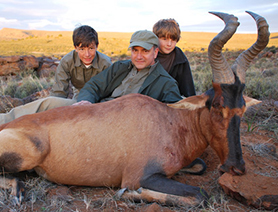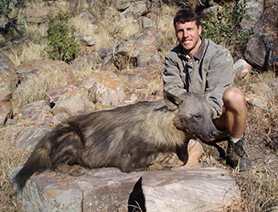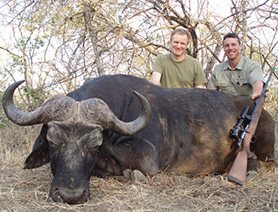 Main Hunting Areas in Namibia
African Rosette Safaris focus on two main hunting areas. The one area lies in the Khomas Hochland within the Khomas Hochland Conservancy , to the West of Windhoek. This area is mountainous terrain and all game is completely free-roaming. Species that can be hunted here include Gemsbok, Greater Kudu, Eland, Red Hartebeest, Common Duiker, Hartmann's Mountain Zebra, Klipspringer, Cheetah, Leopard, Steenbok, Baboon, Blue Wildebeest, Warthog, Caracal, African Wild Cat and Jackal.
Our other hunting area lies within the Kalahari Desert. This is an area of about 70 000 acres and is fenced. Species that can be hunted here include the largest Gemsbok in the world, Blue Wildebeest, Burchell's Zebra, Kudu, Cape Eland, Red Hartebeest, Springbok, Steenbok, Grey Duiker, Ostrich, African Wild Cat, Caracal and Jackal.
The Kalahari Desert is perhaps Namibia's best known geographical feature. Shared with South Africa and Botswana, it has a variety of localized environments ranging from hyper-arid sandy desert, to areas that seem to defy the common definition of desert.
---