The area we hunt is the best concession in Burkina Faso because
Most animals
Best trophies
Biggest success on retrieving trophies and lions. It's the only concession in Burkina Faso with a 100% lion success. On all other animals we only fail if clients miss or wound animals.
Biggest concession in Burkina Faso.
Clients that hunted the savannah in Cameroun and Benin, confirms that this concession is the best in West Africa.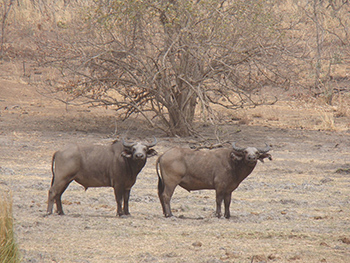 IMPORTANT:
VISA available upon arrival in Ouagadougou, but best is to apply before.
Typical hunting day
Get up at 04h00, breakfast at 04h30 and leave at 05h00 (times vary according to trophies hunted) Drive to concession (25 minutes) and start to hunt Lunch at river in the bush with hippos around 11h00 (depending on temperature) Leave lunch spot around 14h30 and carry on hunting Normally back at the lodge around 18h30
Hunting Itinerary
day 1 - arrive in Ouagadougou (capital of Burkina Faso) day 2 - drive to hunting concession (+- 3 hours on the road) day 3 - 9 - hunting days day 10 - depart from hunting concession to Ouagadougou and catch your outbound flight the same evening
Geographical position
The 260.000 ha hunting concessions Singou and Ouamou are situated in the eastern region, 350 km from Ouagadougou.
Trophies available
We will mainly focus on the Western Savannah Buffalo, Western Roan, Western Hartebeest, Western Kob, Waterbuck (Sing Sing), Harnessed Bushbuck and Nigerian Bohor Reedbuck. Other species that are frequently seen include Lion, Hippo, Elephants, Oribi, Warthog and Baboon.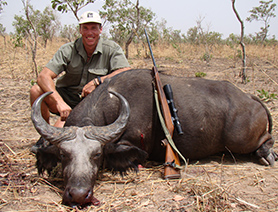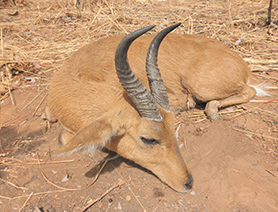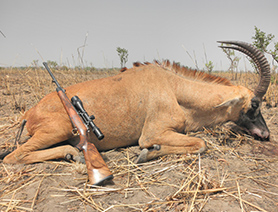 Accommodation
The accommodation consists of well-equipped air-conditioned bungalows with all basic facilities and a bathroom. The well-prepared meals are served in a beautiful dining area with a swimming pool. Laundry is done daily.
Arms, ammunition and hunting conditions
The recommended minimum caliber is a .375 Holland & Holland Magnum. The importation of ammunition is not a problem. Hunting is mostly done by walking and stalking.
Climate and vegetation
It is not too hot in January, February and the first half of March and the hunting conditions are fine. It gets very hot in April and hunting becomes more difficult because of the heat. It rains occasionally in April, but more so towards the end of the month. It is dry most of the hunting season. The vegetation in West Africa is predominantly savannah and bush combined.
Clothing and gear
Normal hunting clothing can be worn during the day and bring along a hunting jacket as well. Bring at least four pairs of trousers or shorts and shirts. Do not forget your pair of well-worn boots, a hat and sunscreen.
Hunting season
January - April
Health and safety
This is a Malaria area. Please take precaution. Insect repellent is strongly advisable. A Yellow Fever vaccination certificate is compulsory.
Electricity and time zone
Electricity: 220/230 volts 50 Hz. Standard time will be throughout the year, 1 hour behind Greenwich Mean Time, 2 hours behind Central European Winter Time and 4 hours of Eastern Standard Winter Time, U.S.A.
Enquiries for Burkina Faso