Mozambique is situated in the South East of Africa
---
General
You will hunt in varied terrain including grass and palm savannahs, forest and swamps. The concession Areas 11 & 12, are part of the Marromeu complex and are bordering the Mighty Zambezi River. The combined areas cover about 5000 square kms. The hunting areas are located in the central part of Mozambique and near the coast. This is free-range hunting at its absolute best.
Weather
Tropical Mozambique is generally warm all year round with temperatures varying from 65-85f during June-September and reaching up to 100f during October and November. Rain can be expected all year round.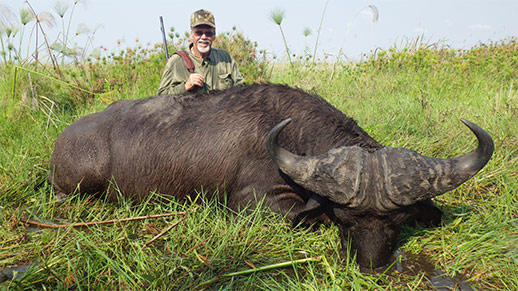 Electricity
Camps are run off solar power with back-up generators. The electricity is 220 Volt with charging points for cameras and video recorders. Most modern day chargers accept 110-240 Volts, otherwise you will need an inverter from 220 Volts to 110 Volts. You will need a pin plug that fists into the South African system.
Anti-Poaching
Very successful anti-poaching units are run throughout the hunting area and is one of the main reasons for the abundance of good quality huntable game.
Disease and Medication
Mozambique is a Malaria area so please check with your doctor which prophylactic to take. Malerone and Larium have worked well in the past.
Rifles, Guns and Ammunition
Standard gun licenses allows for 40 rounds of ammunition/rifle or gun. Please make sure that your gun/rifle details are 100% correct to avoid unnecessary delays at the customs point. Firearms are also available in camp should you choose not to bring your own.
Community Fees
A community fee of US$50/person/night is levied in your bill and is used for projects within the hunting area such as:
• Rebuilding of schools • Supplying of school books and stationary • Maintenance and building of water wells • Supplying maize mills
How to get to Mozambique
Fly to Johannesburg and then from there to Beira in Mozambique. A short charter flight will take you from Beira to the main hunting camp.